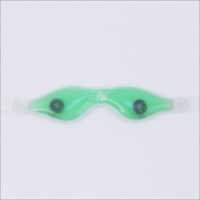 Cool Gel Magnetic Eye Mask A
Product Description
Cool Gel Magnetic Eye Mask relieves dark stress circles formed during elongated working on the computer, late night sleeps, watching TV and field operations in hot summer days. The magnetized cool mask provides relief to eyes. Once cooled in the refrigerator for 15-20 minutes, the cool mask should be placed on eyes for 8-10 minutes. It provides a soothing effect to eye balls and offers heat absorption therapy. It is a free size adjustable mask and is suitable for all family members.
With this mask, you can also enjoy the benefit of deep penetrating magnetic therapy. This magnetic therapy eye mask has magnets and is a natural and safe way to deliver magnetic therapy to your eyes, sinuses and head as a sleep mask or therapy head wrap while you rest. The mask has a soothing luxurious lining with an adjustable strap to fit all head sizes. Supports eye conditions, better sleep, improve brain activity, headaches, migraines, younger looking skin.
Features
Ultimate in travel comfort

Made up of soft material

No allergy and no side effects

Comfortable to wear
Benefits
Improves blood circulation

Improves eye sight

Regular use help reduce wrinkles and dark circles around eyes

Reduces stress formed due to working on the computer, watching TV, pollution, late night sleep etc
How to Use
Keep in the refrigerator or in a cool place for 30 minutes. Place it on your eyes for 10 to 15 minutes and take rest.
Contact Us
Unit No-413, Ghanshyam Enclave Premises, Lalji Pada, Link Road, Kandivali West, Mumbai, Maharashtra, 400067, India